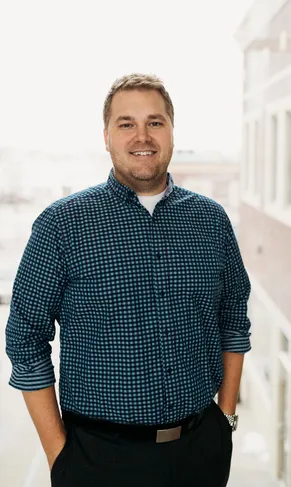 KYLE GRUNDMEYER, D.C.
Ankeny, IA Chiropractor
The Health Clinic, P.C.
Dr. Kyle Grundmeyer, an Iowa native, is the chiropractor and president of The Health Clinic, P.C. From his beginnings of growing up on a farm outside of Aurora, Iowa to his days on the football field and in the classroom at Luther College in Decorah, Iowa, Dr. Kyle understands the meaning of hard work.
Dr. Kyle attended Luther College where he studied biology/pre-med with a minor in physical education. He also played center and left guard for the Norse football team.
Dr. Kyle achieved his lifelong dream of becoming a Doctor of Chiropractic in 2012 from Palmer College of Chiropractic in Davenport, IA. Dr. Kyle is a first generation chiropractor in his family but had this unwavering goal since the third grade of being a chiropractor. Palmer College is the founding college of the chiropractic profession. Established as the first chiropractic college by Daniel David Palmer in 1897, Palmer received accreditation from the Council on Chiropractic Education in 1979 and from the North Central Association of Colleges and Schools in 1984.
While attending the three and a third, year-round chiropractic program at Palmer, Dr. Kyle was able to participate in a number of unforgettable, life-changing involvements. First, as a part of his education, Dr. Kyle participated in a service mission trip to Manaus, Brazil where makeshift clinics were assembled in schools, churches, and rural villages to provide free chiropractic care. The small group of then chiropractic students served over 3,000 patients in less than 7 days.
Also during his education, Dr. Kyle was selected for an internship with the Department of Defense in his second to last term at Palmer. This was one of four military bases in the nation which accept chiropractic student interns. He spent 3 months in Lemoore, California at Lemoore Naval Air Station where he provided care to active duty naval men and women at the West Coast's largest naval air base, while also completing the required academic coursework at the same time.
In his last term of Palmer, Dr. Kyle was able to complete a preceptorship with Dr. Blake Wayson, the University of Northern Iowa's exclusive football chiropractor, in Cedar Falls, Iowa. Dr. Kyle accompanied Dr. Wayson to UNI football practices as well as on the sidelines of many games.
While at Palmer, Dr. Kyle was named to the Dean's list for the length of his education for 10 consecutive trimesters of study and was presented with the Elmer W. Ferguson Scholarship. He graduated Palmer College of Chiropractic Summa Cum Laude with a cumulative GPA of 3.9. At graduation he was also presented with the Academic Excellence award.
Dr. Kyle's Chiropractic Philosophy:
"Treating patients right, the way I would like to be treated, is my number one goal. Thoroughly evaluating each patient on the first visit so we can get them better, or to get him or her to the desired level of health that individual wishes to attain is key in the process to only seeing our patients the NECESSARY number of visits. I would much rather get more patients well, than to see a few patients over and over." - Kyle Grundmeyer, D.C.